I think the new growth is coming around, but not sure. Ive been using Megacrop infrequently (I know, first mistake) in Potters Gold soil. Plants are in two gallon pots. What deficiencies are showing and what's the best plan of action from here? I did start brewing a compost tea and they have had one two feedings of that. Should a compost tea be fed every feeding?....mixed with nutes?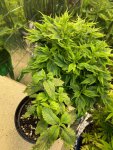 Two Frisian Duck plants. Big one is about three and a half months old, little one is maybe a month old. What are the brown spots from on the little one???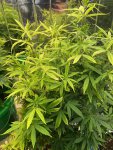 This is Glueberry OG.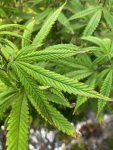 This is a close up of a Durban Poison leaf. This one is a quite hardy plant, but just started the purple edges.
These are just mother plants at the moment, so I'm not looking for vigorous growth, just want to maintain health.
It is feed time for them, so any help devising a good start point as a feed regimen would be greatly appreciated!!