Yesterday I dry Sulphur dusted.
Temperature is 26 Celsius.
Light is 24/7 and strong
Plants were drenched with strong drink.
Still wet from foliar rinse/feed.
Humidty spiked from 40 to 80 rh - after 4 hours, is now back to 40rh
I am starting to see a pattern here. Deep dish taco.
I understand the overall droop is normal after watering.
Excuse the (hps) colour , and the sugar.
Can you make any generalizations about the shape of these leaves?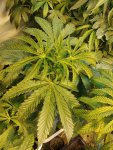 That fan is beauty, eh?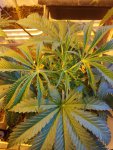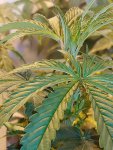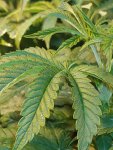 Are these tough edges from overfeeding?
Is it a constant low humidity thing?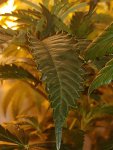 They only out of routine activities have been : increasingly strong feeds.
They are seemingly happy, and growing like hell. I am just curious what you guys see in these photos?
Just a consequence of "asaparagus mode"?
These babies will experience 'Darkness' ,for the first time in their lives, later this week.
I am trying to achieve escape velocity. ?