Starting a journal to record my adventures growing. Feel free to chime in about anything as long as you completely agree with everything I say and compliment all my pictures even when I take a vacation and come home to this lol.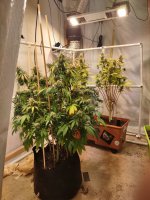 But it's good to be back at it and have been thinking about starting this on the site. These girls are Dos Jellies from Amos. Think they were not watered for over 5 days then they were flushed and then got hydrophobic and struggling with food. They are looking better now as I have to revive the soil with yucca and rootwise mycrobe complete with bio-catalyst. The SIP got em-1 in the rez cuz hydrophobic wicks in the bottom of a SIP mean fucking stagnant water. Have to top feed them now but all seems to be going forwards somehow.
Soil is BAS artisans#3 with bu's compost on top. Added extra mycos and pulverized dolomite lime at start.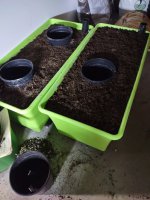 In the veg room have a few females for sure. A couple grape OG*chocolate diesel's from useful and a couple Hollywood daydreams from stray.
Grape OG x CD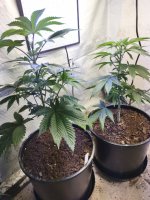 Hollywood DD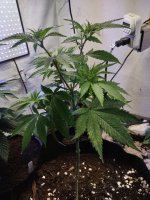 Have some new seeds getting wet:
Soulmate by bodh
Banana runtz by Solfire
Platinum huckleberry cookies by dynasty
Mo'swayz by Amos