🌱🌿🌲🔥💨
Staff member
Administrator
Moderator
You've probably noticed that our artwork on the site is geared towards a "dark" themed background. Although we have a "light" version available for everyone, based on general consensus, we are going to continue with implementing artwork optimized for a "dark" background.
With that said. There are two backgrounds:
- pH Evolution Dark (this is the current default background that most people see, with the rising bubbles at the top)
- pH Classic Dark (this has been in use since the first week of the site's existence, so whoever has been here since then knows what it is like. If not, go to the bottom left corner and select the theme for yourself to see).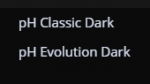 There will likely be theme updates as the site evolves. They may be with either one of the above themes, or if something else comes along just as fitting, we will check into it. Knowing what our members like will help us hone in on how to continue updating the site accordingly.
As mentioned in 'Site News' we are piloting the current theme. If the consensus is to either go back to the original and/or try for another theme, then we are all ears.
Thank you for your input and continued support of pH!