🌱🌿🌲🔥💨
Staff member
Administrator
Moderator
My quest for a humidifier for VPD purposes started with trying to find a unit which would hold more water than the little half gallon cool mist I have. After trying a unit with a bigger reservoir and not seeing any difference in humidity (along with it being cumbersome to remove from the base to refill, poorly constructed/designed, etc), I decided to go the DIY route. It costs more than a typical humidifier but the amount of humidity (fog) produced is on a totally different level, and the flexibility in customization (automation!) to fit your grow is a big plus. I stumbled upon some solid quality fogger units from this company:
The House of Hydro is the world's leading supplier of Mist Maker equipment and accessories. With 13 years in the business, we are your go-to source for Mist maker foggers, humidification, special effects, mycology, and more. We offer mist maker kits, waterproof fans, humidity controllers, and...
thehouseofhydro.com
Inspired by one of their videos, I bought a 3-head unit and made a fogger tote humidifier to suit the 5x5 tent.
Parts List:
- 3 Disc Mist Maker Starter Kit - House of Hydro
- (3 head Ultrasonic Mist Maker - Fog machine Pond Water fogger humidifier fountain | eBay)
- 80MM Waterproof Computer Fan - Cooler Guys -
Coolerguys 80mm (80x80x25) High Speed IP67 12v Fan CG8025H12-IP67
- 3-pin Manual Variable Speed Controller -
Coolerguys Power Supply (1A) & Manual 12V DC Variable Speed controller
- screws for fan - I used long ones that just screwed into the lid
- 18 Gallon Hefty Tote with Lid -
https://www.lowes.com/pd/Hefty-HI-Rise-18-Gallon-72-Quart-Grey-Green-Tote-with-Latching-Lid/1000461763
- HydroLogic 1/4" Quick Connect RO Water Float - Don't cheap out on this! It's the weakest link in the system. My local hydro store had it a bit cheaper than Amazon. (Optional: no need for this if you intend on filling the tote manually)
- 1/4" Quick Connect RO Y-Splitter and Valves (Optional)
- 1-1/4" - 1-1/2" Sump Pump Drainage Kit -
Prinsco Plastic Discharge Hose Kit 1-1/4 in. Dia. x 24 ft. L - Ace Hardware
- Make sure it has two fittings. One will have a bigger threaded end, but it reduces down to where the barbed ends will be the same size to fit the included flex hose.
- Inkbird Humidity Controller (not pictured below) -
Inkbird Humidifier & dehumidifier humidity control 110-240V Meat Food Storage US | eBay
(I caught this on sale and saved over $5)
Tools
- Cordless Drill
- 7/16" Drill Bit (for float valve)
- Hole Saws
- 1-1/2" for the 1-1/4" fitting
- 1-3/4" for the 1-1/2" fitting
- 2-1/2" for the fan port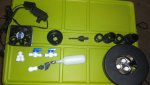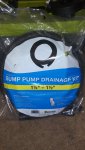 Cut the hoses to the desired length, preferably having both hoses the same length.
Notice how the fan and fittings are placed. The fan fits on the middle rails perfectly. Slide it back to the lip. Make a line to use as a reference so you can center up and drill a hole using the 2-1/2" hole saw. Place the fan back on (making sure it blows into the tote, this fan was label down) and screw it onto the lid. Proceed with drilling the holes for the barb fittings.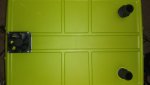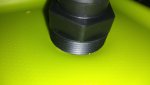 The smaller holes allow for a tight fit. Push and twist the fittings in about halfway. If you go too far, it could fall into the tote.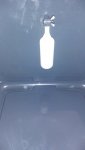 Install the float however high you'd like. Higher means more capacity, but you don't want it too high where water could splash out.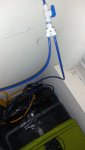 The RO line to the RO collection can got split off to the fogger tote. The fogger plugs into the Inkbird Humidity Controller (not pictured). It's then put into the tote of water and floats. House of Hydro recommends having a minimum of 15 PPM, so the RO water was cut with tap water. This would be the only manual part in this system, which would require very minimal attention.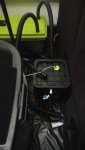 Fit the hoses through the same openings as the epi bucket pipes. These will be covered up with some cloths.
Works great so far. An improvement that I can see is to seal the edges where the lid fits onto the tote, because some fog escapes. Not a big deal, but an improvement opportunity nonetheless. I also adjusted where the fogger unit was floating in the tote to more of the middle vs the edge. The fog was more evenly distributed between the two hoses (this was done after the video below).
In action:
View attachment fogger-tote-1.mp4
View attachment fogger-tote-2.mp4
View attachment fogger-tote-3.mp4