Hi everybody, welcome to my happy gecko grow journal, feel free to grab a seat!
I'm starting this thread just to share what's going on at home and to keep a record of everything as I'm a champ at forgetting things..
Nothing fancy, I hope you will enjoy all of this as much as I do!
I've been mainly growing in coco dtw auto feed (siroflex) under 600w and 1000w hid. A couple of months ago I decided to try led's, main reason was
@SSHZ
and his insane threads! (thank you one more time!)
So this is how I run things for now;
5x5 veg tent 600w hid, where I also keep the moms, revegged plants etc
4x8 flowering tent 1000w hid DE with Adjust-a-wing reflector; this is what I use for the pheno hunting, usually 0,50-0,75gal plastic pots, revegging if needed
5x5 flowering tent Gavita 1750e led, where I (normally) run clones from the revegged plants, 2gal fabric pots, daily hand watering at the moment.
I will keep this setup till the end of this summer. After that, I may build a flowering room again (has been a while since I've not grown in tents, it's def not my thing anymore), replace the 1000w hid by another gavita led (used on a 5x5 surface) and place the auto feed system.
At the moment I'm vegging some;
Carolina Reaper -
Barn Burner - Woodstock Farmacy
Chronic - Serious seeds
Cherry Poppins - Grateful Garden
Exodus Kush - DNA
Cherry 18 - DNA
Gelato - Oaseeds
Tahoe x Somango - Oaseeds
Triangle Octane - Seed Junky
In flowering we have some:
Black Rainbow - Masonrie Genetics
Tropicanna Kush - Oni Seeds
Meow - Prolific Coast
Commerce City Kush - Rare Dankness
Z3 - Terp Hogz
GG#4 S1 - GG strains
Revegged pheno's/moms;
Road Dawg (2) - Karma Genetics
Black Cherry Pie F5 (2) - In house
SD BX4 (2) - Karma
GG#4 BX1 (2) - Elev8 seeds
Tire Fire (1) - Archive
Heath Wave (3) - Archive
Watermelon Zkittlez - Dying Breed
ERSB - Sensi
Straciatella - TH seeds
Blueberry x Lavender (2)
Enough said lol, here are some random pics and the last girls that went down recently;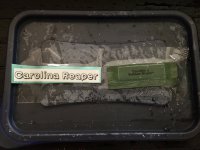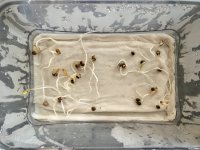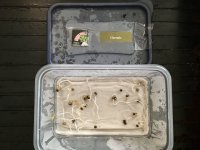 SD BX4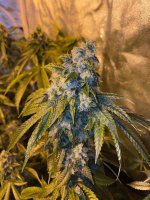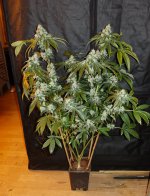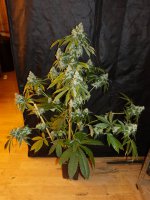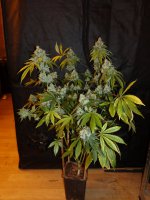 GG#4 BX1
Commerce City Kush
Tire Fire