Hey all , new hear at the phenohunter
I'm justblazin from the great white north
I'm a decent grower not great but not bad
I've gown for about 13 years.
Now and for the last few years I've grown in promix amended with Gaia green dry amendments and a couple other goodies.
I grow in a 5x5 tent with 2x600hps for flower
I have about 5 keepers that I've had for the last few years and I'm always looking for new keepers that are better than my current ones. So for the last 2 years I've done a big pheno hunt of a whole bunch of plants between a few strains.
Last year I found 1 wedding cake x doho and 1 cherry garseeya out of the about 30 plants I ran that were on par with my keepers.
This year's phenohunt was
Regular seeds
Lemon hoko- Blueberry bx3 4 female
Mosca- Old time Indiana bubblegum 1 female
Dark horse- gamma berry 2 female
Femenized seeds
All esos gear
6- twinkle tarts
6- black grape dimsum
5- dynoberry bites
Cracked them over a month ago and kept them all crammed under a couple t5s until about a week and a half ago I repotted them into 2 gallon pots and put them under my 2x600hps and switched to 12/12. So they were a little rough to start in the flower tent but they are starting to come out of there funk. I topped them and took clones a few nights ago.
Here's a pic of them a few nights ago after I topped them.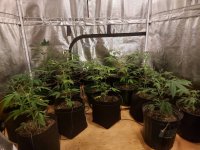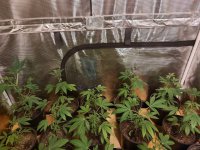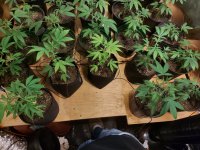 From back left
1st Row- twinkle tarts1-5
2nd Row- black grape dimdum 1-5
3rd Row- dynoberry bites 1-4 OTIB 1
4th Row- Blueberry bx3 1-4,TT-6
5th Row- gamma berry 1-2, BGDD-6
Hopefully the show will heat up soon