So... I'm a little different. And I'm long winded... straight up. Everything's a story. At my age, I'm allowed damn it lol
I know a lot of growers head towards max yield and understandably so. I'm rebuilding my grow so for me step 1 is a lot of variety and bonsai mother plants for clones. I know bonsai isn't popular for cannabis because quite frankly the yield per plant, delayed growing times, and tons of maintenance make it prohibitive for production. Cool thing is that I'm a programmer, operate from home, and am always around. So when I need to decompress? Veg room.
This one is my first "keeper" of the season. It's a Humboldt Seed Company strain called Squirt and a product of their 10k pheno search. The output is good. The strain is bitchy in the nute abuse department. Some plants will give you some tip burn indication. This one? Oh it goes into freaking convulsions, calls for its momma, and spins around choking like it's about to take its last breath. But the bud is worth it. I took a shitty pic and it's not yellow/lime green. The left and right main growth shoots are about to get fim'd to promote vertical growth in the middle of the plant. I think I'm going to grow this one into a round canopy. Anyway, the point to all of this is to be able to keep plants on the shelf for cloning purposes when needed. I can fit 15 of them under a 4 x 2 fixture. The point is to have many choices. Want a strain? Getting low? Clip a clone. My very first mentor was a bonsai plant freak. Glad for it.
The seedlings in the front are a weird cross between HSC's Pineapple Muffin which turned out to be an auto and an old school needle leafed purple sativa male. I found three whole seeds. Blame the bees because those two plants were no where close to each other. Oh yeah. I use the sun and Sunblaze T-5 HO 4x2 fixtures for veg outside of the sun's hours. Plants go outside during the day. At night, flowers go to their dark room. Veg goes under the "blazes". Tons of manual labor. But it saves a lot in the energy department. Not as fast. But I'm about the frost, not the speed
I'm in Wally World pro mix and flower in 5 gallon grow bags. When I need them, Fox Farms for the nutes.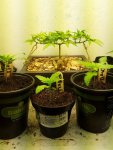 And this is the variety thing. I just moved a bunch of these from the paper towels to the dirt this evening. But here's what's going on:
Pictured:
Girl Scout Cookies
LA Confidential
Bubba Kush
Lemon Skunk #2
Afghani Auto
Super 90 Auto
Snow Ryder Auto
Green Headband Auto
Purple Headband Auto
Sour Lemon 105 Auto
Monster Kush Auto
King Kong
Blue Cookies
Not Pictured:
Widow x that purple thing
HSC's Pineapple Muffin
HSC's Purple Mountain Majesty
HSC's Squirt
Still in Germ:
Sour Pineapple
Ghost OG