Hey there
So I am having an issue in one of my tents, and I am lost as to what is causing it.
In my 4x4 veg tent, I have 16 x 2.5 gallon Hempy buckets. In my mom/veg tent, I have 9 x 2.5 gallon Hempy buckets.
The ones in the mom/veg tent are great.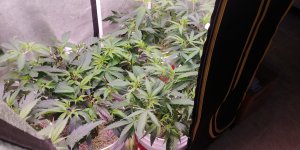 Nice color, perked up and reaching for the sky. No discoloration on the stems indicating moisture or pH problems.
What I can't figure out is why the 4x4 tent's buckets keep dropping to very low pH levels.
It's causing paleness, kinked leaves and general malaise. They are growing, just not looking good while doing it.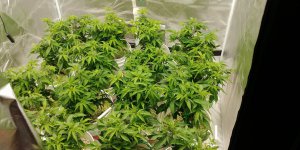 I'm inputting 6.0 and my runoff is 5.2-5.3, which would inictate the pH levels in the buckets' rezzes are even lower. This explains why I am getting pale plants with purple stalks. But I can't explain why it's doing that in just the one tent.
I've eliminated ;
1. The Buckets :
A) drill hole height and size the same on all buckets
B) all are white and none have a black or dark wrap around them. Same in both tents so algae shouldn't be the issue. They all have algae around the drain holes, even the ones in the mom/veg tent that is 'behaving'
2. Solution :
A) input pH - same 5 gallon mix bucket
B) input TDS/EC - same 5 gallon mix bucket
I literally mix a 5 gallon pail and use it to feed all of them, so it should have nothing to do with different input pH/TDS/EC values.
3. Environment/Temp/Humidity
- same typical ranges, and only extremes should explain the strange growth. My temps and RH are good in both tents. It shouldn't be this. This shouldn't make my rezzes' pH plummet to below 5.
4. Lights.
The one and only real difference and the least likely explanation of all. It should have nothing to do with my lights.
5. Strains :
I have the same strains in each of the tents so it shouldn't be that.
6. Medium :
100% perlite in all buckets, shouldn't be that
Totally confused. I will be up-potting soon, so whatever it is may remedy itself, but not knowing what's causing this is driving me nuts.
Last edited: