I have an auto flower in my veg tent that I'd like to keep in there the whole cycle, so I decided to swap out my MH for a HPS bulb.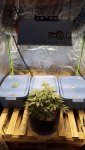 I know a respected grower who swears by vegging under hps. In his words, "big plants make big buds".
It must work because he cranks out trees from his basement home grow. 3-4lbs per plant. (Renfro is who I'm speaking of if anyone knows him.)
I've been interested in trying this before, but I was wondering if anyone here has experience with it and can give me "some sort" of an idea of how much more stretch and nodal spacing I might expect vs. with the MH?
I'm not too concerned about the gelato or zkittlez glue in there, but I know the blue dream gets hella huge under regular circumstances.
Last edited: