3Thirteen Seeds
Staff member
Administrator
Moderator
Its getting to be that time of year again with 2024 approaching quickly....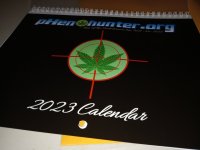 A time to showcase a new pHenohunter calendar with (12) stunning new "Picture Of The Month" photos submitted and voted by our very own members!
These 2024 calendars are for sale by pre-order only and the price includes shipping, tracking and insurance.
The price is $28 per calendar and 100% of profit goes directly to site expenses.

What better way to show your support for this amazing forum AND have the dopest calendar available to keep you up to date on your grow?
If you are interested, please send me a PRIVATE MESSAGE (not chat) titled "2024 Calendar" and I will respond with payment instructions, etc.
Payment methods are limited to Cashapp OR Cash (mailed with tracking).



***** Pre-order payment cutoff date is 11-24-2023 *****


This is when the payment needs to be received, so be sure to get yours ordered early if you plan to send cash payment in the mail.
All orders will be shipped out by the second week of December with plenty of time to receive it before the new year begins.
Thank you for all of the support we have received over the years and we will continue in our efforts to improve as we grow.

​