Hello
everyone this will be my main journal. I am a medical patient and grow to help with PTSD, PMS, and IBS issues. I was going to go with 'AlienAthenaFlavorWhore" as my username but that would be a mouthful. I like fruity tasting weed the most so I'm seeking
strong
fruity meds but I also enjoy other terp profiles. I'll be testing for some people here also.
Seedlings will be in 2oz solo cups filled with coco&perlite. Veg will be in a less than 1L pot filled with coco/soil/perlite. Flower will be 2-2.5 gallon pots filled with coco/soil/perlite.
I will mainly be using Megacrop but once in flower I may use some other bloom nutrients. I'm open to all suggestions.
Currently down to 3 plants flowering in the 3x3x6 under the 240w QB. 2 Bridezillas and 1 Lucky 7's are the lone females this round. Next round with be more diverse lol
Seedling stage
1/1 Moon Juice (Tropicanna Cookies x MaiTai#4)
1/1 Bittersweet (GMO x MaiTai#4)
2/2 X-Files (BCK Phylex Cut x Hyper Alien)
2/2 Pandemic (GelatOG x Hyper Alien)
2/2 Goji x Dank Sinatra x Hibernate (this NEEDS a name)
2/2 Sin City Juice (LVTK x Mimosa)
I had to stop myself from germinating more seeds
Some are up while other are just starting to poke their heads out the coco. Last time I tried germinating in coco I killed the seedling so let's hope for more success this round.
Flowering tent: Bridezillas in the back and Lucky 7's in the front after a good tying down. Should've tied down the Bridezillas but need more binder clips. Will have better pictures soon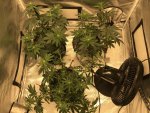 Last edited: