Hi, I'm new here and I have a problem. I'm addicted to poppin, flicking, and making beans wet. With that said, let's jump on in!
This will be my home thread where I update all things I have going on. Don't have much going on currently as both my tents are in early veg... That should have never happened as one is for veg and the other for flower. But we'll get it sorted out soon enough.
I have a new phone and very few pics... actually, just one 😂So, I guess we'll start off with this one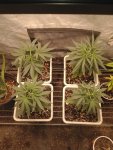 These are testers I'm running for someone called Miracle Gelato Cookies which is Cookies n Chem x Gelato 33 x Waiting Game made by KindAF. I'll have to recheck on how old they are but they just started showing sex. They all got topped the other day. Looks like I have 1 female and 3 males. The plan is to use the best/my favorite male to dust a few branches of the lady for seeds while still pulling some sensi to enjoy afterward.
I have some other stuff going on too that I'll fill in later 🤙