🌱🌿🌲🔥💨
Staff member
Administrator
Moderator
Blueberry Cheesecake - Unknown East Coast - Organically Grown
Sample courtesy of @Capt. C. He did not grow this, however it was something he thought was deserving of a smoke report. Vacuum sealed so the buds may look a bit smashed.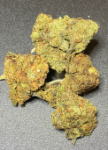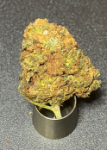 - Appearance –
Squishy, but with a bit of firmness. Definitely not like a harder hydro/coco grown bud, but not larfy by any means.
- Bouquet –
Once you crack open the vacuum sealed bag, STANK CITY. STRONG mountain berry.
- Dry Hit (Joint) –
Piney berry, with a hint of menthol. A bit earthy, very flavorful. Without a doubt, the organic has something to do with the taste.
- Smoke –
Fermented berry. Slight plastic Lawry's taco seasoning (in a really good way) on the backend.
- Effect –
Relaxing but not tired. An "even high." Functional and a desire to smoke more, but more for the taste vs. high. If you wanna get blasted, this won't be the strain, but if you wanna smoke a few and feel "right" this is the strain. It won't motivate you to get projects done but it won't put you in-da-couch either. Good strain to chill & watch some sports on a weekend without putting you down for the count.