🌱🌿🌲🔥💨
Staff member
Administrator
Moderator
God O War - GK Genetics - @Phylex - as grown by @Capt C
Sample courtesy of @Capt. C - genetics by @Phylex. Vacuum sealed so the buds may look a bit smashed.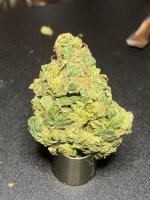 - Appearance –
Dank, resinous buds. Light green with minimal squish factor. Conehead with minimal hairs and tons of frost.
- Bouquet -
Slightly minty with an oldskool "Freshen-Up" gum smell (NOT Wrigley's Doublemint). I have grown many GOWs and this is consistent with almost every sample.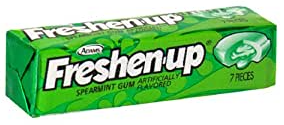 - Dry Hit (Joint) –
Freshen-Up gum is very present, with a woodsy/rustic back end. Alluring and inviting.
- Smoke –
Smooth, calming, lingers on the tongue and roof of the mouth. Able to take big lunger hits without coughing. This is a thick smoke that will stick around, people will definitely notice even hours past the last joint.
- Effect –
Mind stimulating, thought provoking, with some analgesic effects. Take your dog out for a walk and stare at the stars. You will not get tired on this strain. It is somewhat motivating, but can make you feel dumbfounded and lost if overindulged. Great ability to cut through other strains' highs if you've been smoking multiple strains in a row. Definitely not for beginners. Experienced smokers will find themselves smoking a bit less after puffing a J of this. Strong, no joke.