🌱🌿🌲🔥💨
Staff member
Administrator
Moderator
Crazy J #3 (Citrol Sledgehammer [GK Genetics - @Phylex] x Chemdawg Jenny Cut [@JL2G])
Sample courtesy of @Capt. C - originally @JL2G 's creation this is a special pHeno that @Capt. C found.
Vacuum sealed so the buds may look a bit smashed.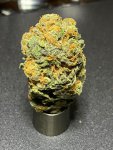 - Appearance –
Dense, heavy clunk-clunk buds, almost 0% squish factor. Beautiful mix of brighter green with purple tinges and dark orange hairs.
- Bouquet –
Lemon leaning citrus with orange and a bit of fresh cut wood on the back end.
- Dry Hit (Joint) –
Pine sol and orange peels. Distinct Chemdawg Jenny influence.
- Smoke –
Almost the same as the dry hit, with an emphasis on sour citrus. Sharp notes but smooth, huge lunger hits won't induce coughing for a daily smoker.
- Effect –
Relaxing with some cerebral effects. Medicinally calming. Therapeutic. It won't give you the heavy mind effects of a pure sativa, yet it has more than enough mind stimulating effects to not knock you out. Good smoke for after work and doing activities to ease the day while still doing "mind stuff," such as playing video games or reading a book.