🌱🌿🌲🔥💨
Staff member
Administrator
Moderator
Citrus MILF - 3Thirteen Seeds - @HydroRed - as grown by @Capt C
Sample courtesy of @Capt. C - genetics by @HydroRed. Vacuum sealed so the buds may look a bit smashed.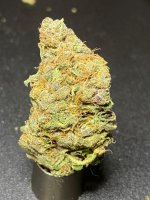 - Appearance –
Thick, heavy buds, with a bit of squish. Beautiful "frosted flakes-fruity pebbles" look, with medium-light green, medium orange hairs, and purple splashes.
- Bouquet -
Floral, mildly perfumey (not the nauseating kind). Like a fine, custom POTpourri that you can't even buy on Etsy lol.
- Dry Hit (Joint) –
Same as the bouquet, but more "creamy smooth." Definite notes of citrus, more on the orange end.
- Smoke –
The perfumey is not present in the smoke, more of the citrus, but the back end is smooth and milky, almost creamy. A bit of "rustic" on the back end as well.
- Effect –
Calming, relaxing. Not an in-da-couch strain, more of a "let's hang out with friends and BS about BS" high. The creamy/milkiness is what is intriguing about this strain. Can induce some increased appetite (can you say pizza?).