I hit a Double Banana Dub clone with some Big Bananas pollen to get a few seeds to work with going forward, and "a few" is exactly what I got - about 24. I smoked some of the seed mom a couple of mornings ago, and it seriously kicked my a$$....had me going 'shadang!' and 'whoa' etc. Hit it again last night after a day of toking, and almost the same thing. I've got too few of these to market, but more than enough to work with, so [ inspired by @HydroRed ], decided to have a contest for a prize of an untested 6 pack of fem beans.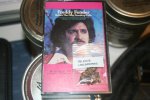 This is a music contest......a 'what would Amos dig' affair. Contestants will post one YouTube music clip, and the one I like the best will be the winner. Rules? Not many.
1. Post a clip.

That's it.

Helpful hints:
[1]my tastes cover most every genre, and span every decade, but not much in this 2010 - 2020 period. Yeah...I'm that guy.
[2] If I'm not digging it in the first 30 seconds, I'll likely not dig it at all.
[3] Entries of Lizzo, Stevie Nicks, and Bruce Springsteen will surely score low.
[4] I do, in fact, like me some Freddy Fender now and then, but he's not shown to influence your entry in any way, but more to show that I am serious about hint # 1.

Lastly, this contest only happens if there are
at least
20 entries, and will begin on the day after that number is reached, running for a week from that point. Reserve your spot by replying in this thread "I got the music in me", or something similarly corny or clever. Cutoff date for commitments is June 4.