The Sentient Naturewalker
Staff member
Administrator
Moderator
This pack was purchased from therealseedcompany.com
Cider Kush (X18)​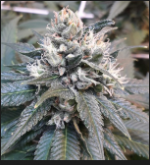 Description​
Genetics:
X18 (Californian – Pakistani Hindu Kush)
Type:
Pure Indica-type
Indoors:
c. 63 days
Outdoors:
mid-October
Classification:
C. sativa
subsp.
indica
var.
afghanica
This is a Spanish continuation of the original Tom Hill X18, a renowned true-breeding Indica-type strain with roots in the Pakistani Hindu Kush. The original landrace from which X18 was inbred is said to have been introduced to Northern California in the 1980s. Crucially, it's believed this strain has never been outcrossed.
This Spanish continuation of the X18 has two main variants, one sour and one sweet. The sour type has a powerful apple cider aroma. The sweet type has candy, pear, apple, and grape scents. Taste and yield of the pure line are superb. A fine breeding parent, its hybrid offspring exhibit denser, more resinous buds and intensified aromas.
This heirloom strain is an archetypal Indica with large broad-leafleted leaves. In an era when cannabis genepools are becoming ever-increasingly homogenized through hybridization, pure inbred lines such as this should be in the collection of every serious grower and breeder.
Keeping heirlooms in their pure form over the coming decades is a wise choice that is sure to benefit people and plant.