🌱🌿🌲🔥💨
Staff member
Administrator
Moderator
Clairvoyant #3 - GK Genetics - @Phylex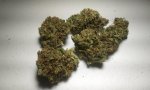 - Appearance –
Crystally with medium density. Medium green, hairs are overshadowed by crystals.
- Bouquet –
During first opening the jar, very pungent cat piss (in a good way), then fades into sweet, aromatic, almost perfume but without the stench. Like an herbal Oil of Olay. Very inviting and memory invoking.
- Dry Hit (Joint) –
The sweet aromatic flavor is tasty and "familiar," reminiscent of the smell when walking by the pipe and cigar aisle back in the day at a Thrifty's or Walgreen's drug store.
- Smoke –
The aromatic flavor is very present about halfway through the J, then it dissipates lightly as the "smoked weed" taste kicks in. Smooth and lightly expansive. This is a very pleasurable smoke. Easy to blaze it all up first before other strains.
- Effect –
Calm and level headed stone. A tad bit on the cerebral side, mostly balanced in head and body. An all day strain, can be compulsive.