🌱🌿🌲🔥💨
Staff member
Administrator
Moderator
The rating system used on previous reports may have been too subjective. Ratings will no longer be published on my smoke reports.
Galactic Funk #4 - GK Genetics - @Phylex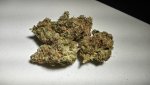 - Appearance –
Lighter end of the dark green spectrum, the frost lightens it up more. Tan-orange hairs all over. Some squish to the buds, but not airy or larfy.
- Bouquet –
Sweet citrus but not overpowering. Very pleasant. First open of the jar was definitely sweet citrus with definitely noticeable funk backend.
- Dry Hit (Joint) –
Slight piney tangy on the tongue with a skunky funk backend.
- Smoke –
Medium-Light with a bit of tangy bite. Like a light lemon-orange lemonhead candy on the breathe out.
- Effect –
Cerebral and functional. Not quite a wake n bake rush like Trainwreck, but definitely one that can pull you out of a heavier stone from a previous strong Indica. The mood-lifting ability is quite remarkable.