🌱🌿🌲🔥💨
Staff member
Administrator
Moderator
Paladin #1 - GK Genetics - @Phylex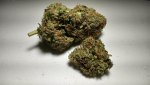 - Appearance –
Bulky, chunky, golf ball nugs. A bit of squish but solid through and through. Potential heavy yielder.
- Bouquet –
Subtle, not overpowering. GTH influence with the herbal-earthiness.
- Dry Hit (Joint) –
Herbal with a hint of frozen vegetables and Pert Plus shampoo or lotion, but without the soapiness.
- Smoke –
Medium with a bit of bite in the nostrils with a dragon breath. Expands in the lungs on the quicker end. "Toasty" taste.
- Effect –
Balanced mind and body. Head is "swimming" with warmth behind the eyes. This bud has the potential to kick things into overdrive. If you like to fiddle with things, this is a good strain to put in the mix.