🌱🌿🌲🔥💨
Staff member
Administrator
Moderator
Pandemic #3 - GK Genetics - @Phylex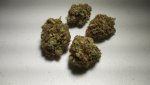 - Appearance –
ROCK HARD clunk-clunk nugs. Every one of them, even the lowest of lowers. The crystallage is
so dense
that the trichs fused together and "hardened" the bud so to speak. 0% squish.
- Bouquet –
Open jar whiff was almost pure fruit punch. Not the watered down kind, more like Hawaiian Punch level on up. Up close bud sniffs had a sweet floral bouquet with fruit punch, like an exotic flavored fruit drink.
- Dry Hit (Joint) –
Earthy with dominating fruit punch. Delicious.
- Smoke –
Heavy, dank; as expected from buds so packed with crystals. With a fan blowing across a joint, you typically see light wispy smoke blow off. With this one, it's more dense and thick. The earthiness is less, and the fruit punch is not as dominating, but the dense, billowy clouds are typically an indicator of more resinous buds.
- Effect –
Heavy head stone, a bit on the narcotic side, but strangely functional at the same time. Won't put you out for the count, and has the potential for couch lock if over indulged. Good ability to cut through other strains' highs.