Welcome to my coco coir journal. PLEASE FEEL FREE TO COMMENT, ESPECIALLY IF IM DOING SOMETHING WRONG. LOL
Strains: Nirvana Jock Horror, Raspberry Cough, Sour Diesel, Tangie, Black Jack and Afghan KushxBlack Domina.
Medium: coco coir mixed with perlite
Nutes: General Hydroponics Flora Trio, Recharge soil conditioner, Maxicrop Seaweed Extract, Terpinator, CaliMagic
Target ppm this week 250, target ph for food is 5.8
Lighting: 3 Timber 3vl cob LEDs
Tent: 5 x 5 x 8
Water: RO water
Plant Training: Uncle Bens topping technique....then LST.
Started out with a humidity dome to try to maintain a very high humidity level in my room. Found that without air movement, the stems became too weak. So I have removed them from the dome and I have an oscillating fan blowing on them.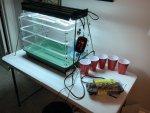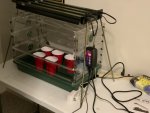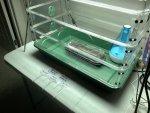 Seedlings have been growing quickly in coco. I'm foliar feeding with seaweed extract up to ten times per day, plus feeding the plants with 10 percent runoff once per day. They are getting 15,000 lux worth of light.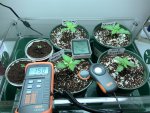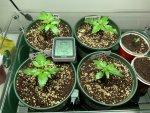 As soon as I finish my harvest, I will move them to the grow tent under the more intense lighting.
Last edited: