🌱🌿🌲🔥💨
Staff member
Administrator
Moderator
For those of you not familiar with my Smoke Report format, I have 5 main sections which are ranked on a scale of 1-10 for each section. I then calculate a straight average of all 5 scores for an Overall Score. Test samples are typically 3x 1g Joints between my GF and me in one session. Joints are rolled using 1.25 Raws with Raw brand crutches (tips). A Joint provides a clean vehicle for dry hits and consistently even drags. The sample size allows us to get a good feel for the smoke. As with just about everything, this is all subjective, and different people may get different results all together. I'd like to say that my GF (daily [hourly?] smoker) and I (almost as much as her, damn job gets in the way 😄) are pretty good at evaluating this type of stuff because of the METRIC FUCK-TON of weed we've smoked both past and present, but I'm a little biased. Just read along and you can judge for yourself
I can say that we have very high tolerances, so please keep this in mind especially when it comes to Effect. We try to take this into consideration and will note these types of nuances accordingly.
==================================
Galactic Funk #1 - GK Genetics - @Phylex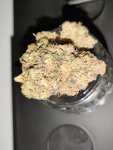 - Appearance –
Tight, compact nugs. No squish. Light colored, with purple highlights.
8.2/10

- Bouquet –
Floral and slightly aromatic. Not overpowering.
8.0/10

- Dry Hit (Joint) –
Floral with veggies. Similar to the bouquet but with an oldskool "cafeteria carrot sticks" backend.
8.2/10

- Smoke –
Slightly floral with a Pert Plus shampoo backend. Smooth.
8.3/10

- Effect –
Head waves. Pulsating behind the eyes.
Mood lifting.
Takes 1 full J to the dome to feel the effects hit you. Then it's off to the races. Strong Attitude Adjuster, able to pull one out of the mind-Funk and into the Galaxy.
9.2/10


Overall Rating (based on average of scores) –
8.4
/10
Check out GK Genetics (@Phylex) in the Grow Journal West Coast Chronicles for more information on this strain such as lineage, flowering times, and availability.