This will be my first attempt at reversing a plant using this
@HydroRed
STS tester kit....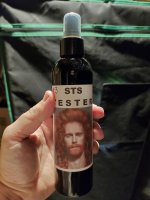 Our test subject is my Hippy Slayer 33 cut shown here...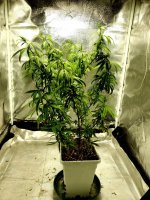 She'll be flowered alone in my 32x32x60 tent under a single HLG65. She's in a 7"x7" square pot and growing in Roots Organics 707 mix.
I made the mix using 120ml of distilled water along with the two part tester kit supplied (and I followed instructions so they went in in the right order!). First spray was today, 5/9 at 6pm with the lights off. Currently under 20/4 light cycle. Will flip to 12/12 and do a second spray in 5 days, so 5/14.
Once this trial is complete I'll be attempting a second reversal also using the HS33 but using an STS kit I purchased from Wicked Pharms on Etsy to compare results.
If all goes well, I'm gonna have a lot of HS33 S1s to share in a few months!