How many seeds would I need to germinate in order to ensure a male?
50/50
( it is a boy, or it is a girl. I understand there are other factors, but if I ignore them: they will go away)
It is straight math.
You think I would know this, off the cuff.
However, here is a handy chart.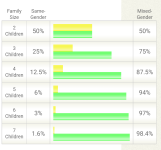 If you have a family of all boys or all girls, it may be hard to believe that it's the result of only chance! Check out what statistics and data on a large number of families show us.
www.ingender.com
Shows only three times in a hundred, would all six plants be female.
Generalizing, you would need a couple of dozen sprouts to guarantee that you have a few males to look at.
I am planning a seed run and I just convinced myself to plant the whole pack.