Unc. , Jesse, some other folk, and I once had a conversation about a proposed farming method.
I like changing things up every grow, after admiring skunkyDs' gig I decided to go with it.
I will get back to the W.T.F. part.
Unc. started it , so we will lead off with him.
Super-round "Deep Congo F2"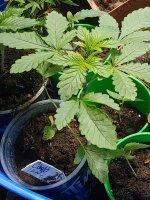 I fret when I soak beans, watching them take off elates me, without end.
The first two leaves setss are very predictable. The first ones we see are the Coty's, they are round. The next set of leaves to form, although now serrated ,are fo-sure single bladed.
Check out these offerings from the
@Agent Trent Hauser
, these "Sweet Skunk" singles are wider than the pot.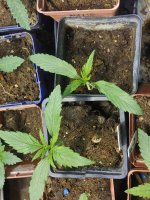 The third set of leaves can tell you a lot about a plant. I always regard , and I am super impressed when I see five blades on the third Leaf set. After having sown hundreds of seeds, I have only seen it twice.
What are we looking at here?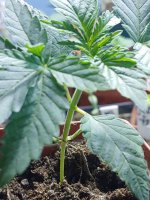 That is
@Buck5050
" BlueRipper x GG75"
( Gorilla Blues??)
The Cotys are hiding down there and you can see the single serrated leaf ,the third Leaf set is above that?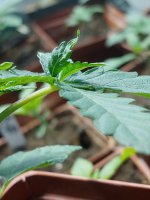 there are two extra blades protruding from the top.
Four would have done it.
Not satisfied in a tie for first place, she shatters the record with seven blades.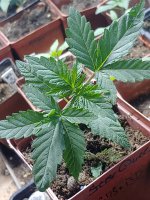 Remember that stuff I said about two Coty's ?
We take all kinds here.
Rebel OG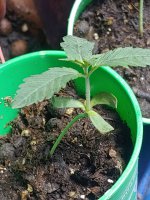 I have about 50 up. It will take me some time to introduce them all. This all needs to happen very quickly. I am running out of excuses to keep the lights on out in the igloo. That bunny is relying on the lights for heat. I told all of those old hags to pack up and clear out by the end of the month.
I want to veg with CO2. This is all going to out of the nursery very fast.