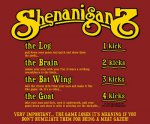 Welcome Meat Gazers !
SCreen Of All Tangie
ThIs will be the precursor Flower Show to the "Room of Tangie". All Sour Tangie crosses are creations of @THT. They were snuck under the fence courtesy of @chiefer888 .
This could get Loud.
View attachment IMG_0473.MOV
Start from beginning: Room is 8x6 with eight foot ceilings. Two of 3x5 splash tables. Yes, they are 'all-fridge' doors. The side side pro door, across the back , is 12x60. Got some plans for that one.
Gonna add one more fixture, because,, why not?
I took a cue from the Crystal Palace, and left a centre aisle, allowing access to the back wall. I am slowly catching on; as such, dropped from milkcrate stanchions to bricks. Keeping the birds view on this one.
Up potting as I flip, because- I suck and stuff. So gunshy after that bamboo festival, everyone is still chill'n in tiny quarts, some in half gallons. Been diligently topping and keeping everything manageable.
Perhaps bluffing there: Veg room looks pretty stuffy again.
It is time.
I have never cast a net before, this could be interesting.
Because, I am incouragable, and my own worsted enemy; I will be getting jinky with my soil presentation. Got an idea I want to try out.
Everything is Perme'd down and shined up. Found some 'Rhino-wrap' , to seal the leaks.
All systems go.
Introductions as they arrive.
With a few outstanding exceptions, we are looking at all @THT and GK Genetics this time round.
Huddling, dim, cold and wet, I start with the bar real low,,, I tensioned the extension cord, and hung it under the dripping plant. We are off to a hell of a start kids !
This Gal will soon be a star.
GK Genetics
God O War