I'm a few weeks into veg on these OG Kush, and I thought I'd show how I'm doing LST - so others can copy it when it succeeds --- or avoid if it's a spectacular failure.
The plan is to bend the plant over at an angle and train the branches out sideways. Grow to around 30 branches each and flip.
I pinch the main stalk firmly and start gently rocking back & forth in the direction I want the stalk to lean - increase pressure slowly until the stalk begins to move a bit easier (avoid making it floppy).
---Of course, the plant will tilt back up towards the lights - wait until there's enough space to bend a new node - bend it to maintain a flat-ish canopy.
I'm trying to avoid stunting their growth this round - Light supercropping is working well so far, but I have plant wire & a way to tie her down once her head & branches clear the edges of the pot.
The small plant was started yesterday - no supercropping - just bent it to a 90 degree angle, knowing it would be standing straight again this morning.
This morning I bent the stalk again - it loosened up slightly on its own, but I expect it to be vertical again this evening - then I'll supercrop it lightly.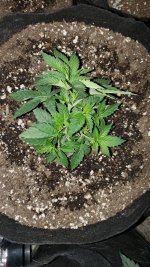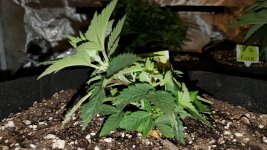 The large plant is a whorled phyllotaxy (3 branches per node) - it's growing insanely fast compared to it's siblings. It lost the 3 node pattern for a while, but it seems to be returning - there's A LOT of branches to manage - Appx 21 so far --- hoping she'll be a monster!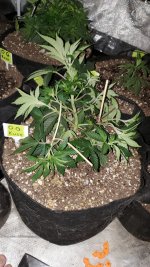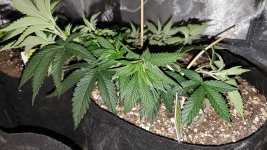 ***** NOTE - After last round, I swore I'd let them get taller before starting LST. I did - and then started the bend at the same place!
She's gonna look like a weed vine.