Fired up to be here and share my experience for whatever that's worth.
I've got too much going right now but after a little hiatus I have to scratch that itch.
2 Old Family Purple x Jabba's Stash reg seeds bred by
@Schwaggy P
. These seeds got soaked 2/10, paper towel 2/11, soil mix 2/12. Now today they are up 2/13.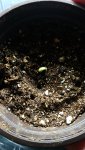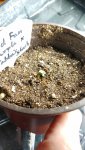 One random hermi seed from a while back, I think. Threw them everywhere and found this seedling sticking up out of an old discarded tomato plant the other day. Have to give it a shot for its effort.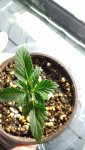 EEEE ( Mr E x Star Pupil) fem seed bred by Mass Medical Strains (freebie) soaked seed 1/27, paper towel 1/28, soil 1/29 up from soil before end of day 1/29. Crazy vigorous, caught up in size to Vienna Skunk and Purple Cake that started 17 days earlier. It's only like 2 weeks old.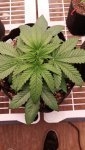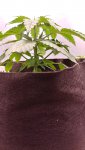 Psycho Jenny 1&2 reg seeds (Jesse's Jenny x Citrol Sledgehammer- GK Genetics) bred by @Jesselikes2Grow. Soaked seeds 1/28 up from soil a few days later, didn't record dates.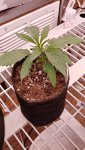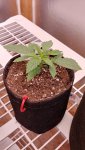 Vienna Skunk fem seed - true Skunk is all Humboldt Seed Organization gives for lineage. Supposed to finish under 50 days. Only got this one to pop out of ten. Seeds where widely varying sizes. Biggest one is one that popped. Soaked 1/11 took a long time to germinate not sure when it finally popped. Really bushy and squat. Took a few days to get its legs after transplant. Looks good now.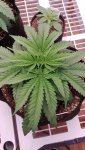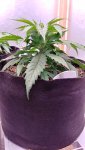 Purple Cake fem seed bred by Greenpoint. Soaked 1/11 paper towel 1/12, soil 1/13, popped out of soil 2 days later 1/15. Really pretty plant and stinky. Not too aware of which way plants lean (mom or dad) since I have little to no experience with most parents but assume this is on the cake side she smells awesome already.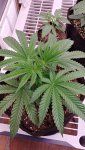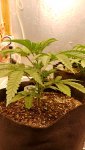 Then the Star Pupil fems from Mass Medical Strains. First one didn't like my seed starter soil or something. First few leaves were spotted and crunchy on edges. Thought Id let it grow out of its funk but it was taking too long (or I'm impatient). Chopped all the funky shit off and now letting it do its thing. Looks a little rough since I just dropped it on its head taking a picture. Not sure how it didn't snap. Landed upside down from 3 feet.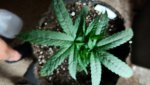 2nd one is a mutant growing in abnormal patterns still. Cleaned up all the lower weird shit on that one too and now shes just hanging out with her sister. I'll give them both time to grow up and keep my fingers crossed.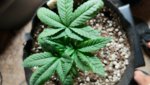 Trying something new this time. Went with a new (to my area anyway) supersoil by Roots Organic called Lush. Trying the water only for now. Will have to amend at some point. Soil is supposed to feed for 8 weeks. Left couple inches of space in the pots (3 gallon) so I can top dress as needed later.
That's my story and I'm happy to be here
Last edited: