What is it?
It's a first of it's kind, seed-to-harvest, (organic)herbal-medicine growing kit.
The kit includes everything a new grower needs to get started growing herbal medicine minus the grow light, fans and space to grow it.
Who is it for?

The kit is designed with the new grower in mind as a simple, easy-to-use introduction to organic gardening.
People with limited-abilities might also find this kit beneficial as it does not require a lot of input from the user.
Simplicity is key here.
As long as the grower can meet basic environmental requirements, they should be able to produce quality medicine that rivals or surpasses the quality of medicine that is available to them commercially for a fraction of the cost, not to mention the self-satisfaction that comes with producing your own herbal medicine.
Ultimately, it's for anyone that wants to give it a go, from experienced growers, to older growers with limited mobility, but it is a basic kit designed for the new grower with limited or no experience in plant growing.

What's in the kit?



Right now the kit consists of herbal seeds(Dino Part Chucks for the trial), a custom 4-gallon pot, medium, fertilizer, biodegradable measuring spoon, trimming scissors, plant identification marker, and a feeding chart.


The production kit(PK) will include a different pot than the one enclosed and this kit comes with no instructions other than the feed chart whereas the PK will include a basic but concise set of directions as well as some growing tips.


Why this thread?

While I'm confident that this product is

extremely

simple to use and will

consistently

produce quality medicine, I need examples of this in the "wild" to demonstrate efficacy of claims.
That's where you might possibly lend a hand.
I have 10 kits assembled and ready to ship. I need 10 people willing to volunteer their time and space to trial this product so I may make any necessary adjustments before going to market.



If you're willing to participate:


I am asking for the majority of shipping costs to be covered by participants, I've averaged this to one quarter of a Benjamin.
we can cover details in private message. any communication after will take place via email

You will be asked to participate in two questionnaires, one after receiving the package, and one after completing the grow.

I need at least 1(one) veg picture and 1(one) picture in late flower but feel free to post as many pictures as you wish.

The kit needs to be started by no later than September, 2023.
This is limited to United States participants only.

Again, there are no instructions, just a feed chart to follow. Other than that, the grower is left on their own as to what, if any, IPM they choose to institute, when to harvest, pH input water, etc..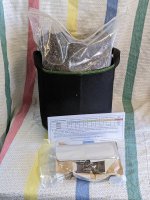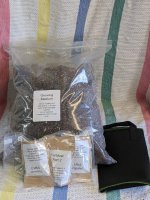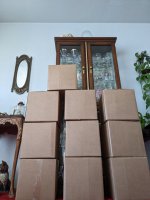 Things I am looking for:
?Breeders willing to supply 3-pack fems and/or autoflowers. Depending on the success of this endeavor, I'm looking to do runs of approximately 50-100 packs with a focus on contrasting terpene profiles rather than "popular" strain names. There's a lot I'm still trying to figure out in regards to this part but hmu anyway if it sounds like something
?Anyone that has advertising or marketing experience so I can pick your brain.
​
Super huge thanks to @Dino Party for the boost of over-confidence to get this going and for donating the seeds for the trial run.
Shout out
to @RookieBuds for reinforcing that over-confidence
And thanks to everyone for an awesome community
Grab one before they're gone ✌️ and hmu in the comments if you have any ?'s