Summary Statement: Mainly to document what I'm doing but also to engage/share with the community!
The Garden setup: First up is a basic pic of the garden area. I am growing DWC in two tents. First tent is a 4x4 with 1000W HPS/MH bulb. I tend to switch HPS and MH in and out but no real rhyme or reason other than to switch it up. The second tent is a 2x4 running a Mars Hydro TSL1000 LED (Kickass light). Between both tents I use the same nutrient line as I have found it to be fantastic for my DWC application (2 Part - Botanicare - Pure Blend Pro Grow/Bloom)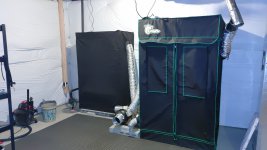 Round 1 -
This rounds focus is on looking at the Terpenado Strain by Bodhi as a potential breeder. Recently ran Terpenado and loved it. Potent and crazy levels of flavor with good yields. The structure wasn't my usual fanfare but considering what it produced I have no issue with it. If I can find a male from Terpenado I intend to pollenate with it. The last four F1 seeds have been dropped along with three More Cowbell (O.G.K.B remix) by Bodhi and three Cookies and Chem by Greenpoint Seeds. I also have one of Dynoberry Bites and twinkle tarts from Eso seeds.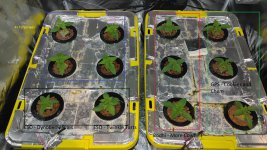 Once I have more to share I will. Happy Growing!!