Sin City Juice #2 - 3Thirteen Seeds - @HydroRed
Sample courtesy of @HydroRed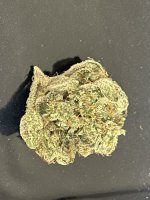 -
Appearance
– Dense, clunk-clunk on the tray bud. Sugary frost, pics don't do it justice.
-
Bouquet
- Strong Mimosa leaner. Spicy orange rind, slightly musky and very pungent orange penetrating smell.
-
Dry Hit (Joint)
– Early summer mornings, on vacation. Like a variation of a sangria and a mimosa. Orange rind still very present. Enjoy this with a light roast coffee or some Jasmine tea and some fresh fruit to start a relaxing day away from the rat race.
-
Smoke
– Medium bodied smoke. Slight throat on the hit. Smooth exhale. A little less of the stronger orange rind dry hit, but orange is ever so present.
-
Effect
– Relaxing. Some relief in the lower back area about halfway through the joint. Some anxiety relief as well. On the way to get munchies I passed my turn off by three streets