🌱🌿🌲🔥💨
Staff member
Administrator
Moderator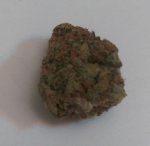 - Appearance –
Just like the #2 specimen - super tight bud. ROCK HARD, super clunk clunk nugs. Rivals a paclo grown bud but there are no PGRs here. 100% HydroRed goodness.
- Bouquet –
Strong orange. Not orange peel, but orange-orange.
- Dry Hit (Joint) –
Orange floral. Like orange blossoms blooming on the tree.
- Smoke –
Smooth. Light orange, creamy. Pleasantly smooth feeling on the tongue.
- Effect –
Relaxing. Heavy headed. Semi slow-motion. Exaggerated audio. Play Pink Floyd Comfortably Numb and float away.
This is a newly-released sample courtesy of
@HydroRed
(thank you!) - for the latest updates on this strain and upcoming drops, check out:
HydroRed's Horticultural Whorehouse