Orange Julius #2 - 3Thirteen Seeds - @HydroRed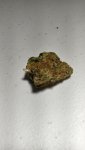 - Appearance –
Super tight bud. ROCK HARD, super clunk clunk nugs. Windows and glass table tops may not be safe.
- Bouquet –
Smells
exactly
like the Orange Julius drink at the mall. Creamy orange.
- Dry Hit (Joint) –
Silky smooth, aromatic orange peel backend.
- Smoke –
Orange peel with a bit of spice. Some medium expansion, big hits will likely induce coughing. Silky smoothness stays throughout. Coats the teeth, where if you grind them they have that "slick grind" feeling.
- Effect –
Strong. Clear head, floaty, but not heavy. Like trying to balance a bowling ball on a golf tee. Relaxes the body, very chill. Good after dinner evening smoke, watch a movie.
This is a pre-release sample courtesy of
@HydroRed
(thank you!) - for the latest updates on this strain and upcoming drops, check out this post:
HydroRed's Horticultural Whorehouse