🌱🌿🌲🔥💨
Staff member
Administrator
Moderator
The rating system used on previous reports may have been too subjective. Ratings will no longer be published on my smoke reports.
Sin City Juice #1 - 3Thirteen Seeds - @HydroRed (6+ Week Cure)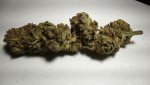 - Appearance –
Extremely dense, super rock hard. Covered in fuzzy trichs. Tinges of purple splashed randomly throughout the bud.
- Bouquet –
Super heavy orange-tangerine-sweet spice rack,
almost
like cinnamon but not as "cinnamony" – like a sweet wild growing plant by a lake or river in the summer. Very difficult to describe. Buds up to the nose, and the smell is still lingering strong minutes later.
- Dry Hit (Joint) –
Liquid orange, very thick and heavy with a spicy bite. Almost like a Mediterranean spice & Indian curry with orange peel fusion.
- Smoke –
Heavy and expansive. Big hits not recommended, as they will make you cough. The amount of fuzzy trichomes covering the bud is an indicator of high resin production. Orange is present about 50% through the J then becomes more "smoked weed" at the end.
- Effect –
Sinking feeling in the eyes, with a definite heavy head. A whole J to the dome means lost and spacey with a bit of body load. Relax and chill type of bud.