🌱🌿🌲🔥💨
Staff member
Administrator
Moderator
The rating system used on previous reports may have been too subjective. Ratings will no longer be published on my smoke reports.
Sin City Juice #4 - 3Thirteen Seeds - @HydroRed (6+ Week Cure)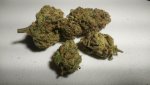 - Appearance –
Every single bud is insanely dense and tightly packed. Even the small buds are clunk-clunk buds. The super fuzzy trichs look like a matching lighter shade of carpet on the bud. Some nugs have splashes of purple. Excellent bag/jar appeal.
- Bouquet –
Open jar sniff was heavy fermented orange wine. Bud sniffs did not have much orange, instead it was more of fresh foothill shrubbery with some kinda berry (?)
- Dry Hit (Joint) –
Clean, fresh earthy countryside breeze with some kind of conifer based wood.
- Smoke –
Medium bodied but expansive. Will make you cough because a "smaller hit than normal" will get the same effect as a "normal hit." Best as a toking joint, no bong rips here.
- Effect –
Relaxed and a bit floaty. Clear in eye focus but mind can wander easily. Very strong, zoning head, would be best for evenings. Easy couchlocker at higher doses.