The Sentient Naturewalker
Staff member
Administrator
Moderator
Contest raffle what do you think this should be..I started this in the concentrates thread but decided to move it here. I would like to get your guys opinions on something, everyone's counts. I am planning on setting up a something for a few items. I've been told I have too much stuff I don't use, so I am looking to do a raffle for those things or something. At least where these items will be of use. Any sop or opinions on how to manage the raffle would be helpful
If I get enough responses I'll set something up in the contest thread...
First item:
2.5x2.5 prepress mold for solventless processing. Bought it, never used it, have 3x5 plates now, and have the pre-presses I need for it.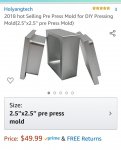 Second Item
Hydro-Logic 31035 100-GPD Stealth-RO100 Reverse Osmosis Filter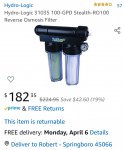 with float valve and flush kit for membranes
Third Item
misc grow led from the store still in closet unsure what it is don't remember..I'll have to check...it was just something was going to add for spectrum.
edit: grabbed a pic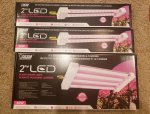 what do you guys think? Interested?
i was thinking of one being fun and challenging, looking for ideas
Deebs
Last edited: