Hello fellow hunters!
This is my first attempt at a "journal". I'm normally not one to document and update on a regular basis, but I'll give it a shot. I've been enjoying the journals here, so figured I'd start one of my own for others entertainment.
Pics will be from past runs, and hopefully present and future progress as well.
I've been a fan of vertical growing since reading the forum legends and teachings of folks like Heath Robinson and others.
I'm just a small scale hobby grower, doing it for the love of the plant, and the fun of working to continuously improve my own product, and garden setup.
The veg area is a 2x4 tent with up to 360 watts of DIY LED fixtures- a 120w horizontal veg light, and a 240w vertical preflower light. The plants are in small net pots or sawed off 2 liter bottles, in a flood and drain tray.
The flower tent is a 3x3, with a DIY 480w vertical LED strip fixture. All fixtures are 3500k, Chinese Samsung LM561C, and were built about 3 years ago.
The tent (barely) holds 8 plants in 2 gallon pots, nested in sawed off 4 gallon water cooler bottles.
The reservoir is a ~17 gallon cement mixing tub.
Water is pumped from the rez via a 1200gph submersible pump up through a central manifold, top fed to the 8 sites, down through the water cooler bottles, through a 2 inch PVC drain manifold, and back to the rez. Timer is set to a minute on, an hour off.
What goes in the water is pretty simple, if I can help it. Currently, it's just Megacrop, pH down, and pool shock.
I had been using orca and enzymes, but my water is regularly 80-90f+, and they just had too hard of a time keeping up.
I never lost anything to root rot, but I've switched to pool shock for a change.
Strains I run vary as much as possible, but generally all share the same rez and feed strength. I like all different effects, depending on time of day and mood. The stuff I've been running lately includes varieties from Bodhi, Schwaggy P, Bad Dawg, and some personal crosses.
I guess that's about all the pertinent details I can think of for now, but if I skipped something important, lemme know.
Now onto a few pics, but fair warning, I don't have a bunch of beautiful flower shots like a lot of you guys... Mostly some boring ass veg and early flower shots for now
Here's the veg area until recently... Moved a bunch of stuff, and currently it's pretty pathetic and empty... Time to pop more beans I guess lol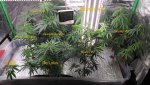 And here's a shot of the flower tent. You can't see everything obviously, but to give you an idea, strains are as follows; counter clockwise, starting with the front left, furthest along, which is a Bodhi Dread Bread. Next is a small Heavenly Hashplant, then Sky Lotus, both by Bodhi. Rear left is a Knights Templar V2 by Motarebel. Rear right is a cross I made, that I call Spring Training. It's a Florida OG crossed with an Ace Golden Tiger. Right side rear is a Skunky VD by Schwaggy P, then a Pillow Book by Bodhi, and another Skunky VD in the front right bucket.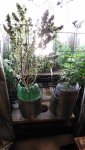 Here's a few closer shots of Dread Bread, Sky Lotus, Knights Templar (C99BX1 x Herijuana), and Spring Training in that order. The poor Dread Bread had some rough times till about half way through flower, but she should turn out ok.
Dread Bread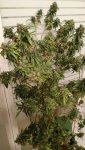 Sky Lotus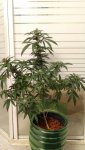 Knights Templar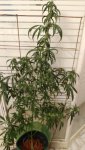 Spring Training
Last edited: