Hi all!
I've been lurking for a while and decided to just take the plunge and say hi. Been growing a perpetual harvest for myself for just over 2 years and chucking pollen for about half of that. Before cannabis, I had a long history of growing edible plants (herbs, nightshades, and cucurbits in particular) outdoors. Now I grow all of that indoors.
I'm kind of eccentric genetics-wise. Although I love me some good Blueberry, NL5, OG, Chem, etc, I tend not to breed with them much (Besides in my Lemon and Blue Dream side projects) because I don't really feel like I have anything to add. I've got some Blueberry Amnesia that are finishing up in flower that I'm looking forward to smoking quite a bit, but I'm not going to cross it with anything but Blue Dream x ON Haze. I'm usually bored to death with Cookie highs.
I've found that G13 crosses do really well with my physiology, so I'm diving into those crosses with things like G13 Hashplant, G13 Haze, Blowfish, Killer Queen, etc.
I've also got Ace's Haze x Kali China, Golden Tiger, Kali China, Bubba Hash, and Orient Express going, to be crossed with the G13 Hazeplants.
Since a picture says a thousand words and so do I in some posts, here are a few standouts from that time to get things started...
Killer Colombian Lamb (USC Col'Jam x Bros Grimm Killer Queen). This was actually a seed that dropped from the Col'Jam mother that had developed a couple nodes by the time I chopped her. I felt bad killing that beautiful little plant, so I just let her keep flowering. Now, after being chopped and revegging, she's about to be flipped again in a week or two. (Col'Jam, for the record, is Colombian Gold 1972 x Jamaican Lambsbread (1960). The smoke was great, but she flowered for like 5 months.)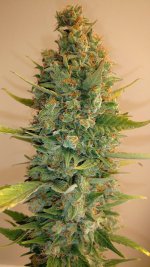 My keeper pheno of Hazeman's '88 G13 Hashplant. She's had a bunch of pollen chucked at her, and will continue to get hit with superlative dudes as they manifest themselves.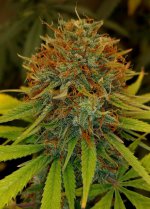 That got crossed with this beautiful G13 Haze from Barney's Farm.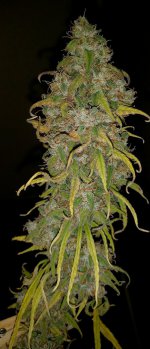 I'm calling it G13 Hazeplant. Creative, I know. Technically it doesn't have any Haze in it, but I'll soon remedy that with an awesome quick-flowering Original Haze dude that I've got revegging right now.
A couple of the offspring from that are in early flower right now, they'll get hit with the pollen collected from the males.
This is Pipatxu from Kwikseeds (Deep Chunk x Maizal Gord), or my keeper pheno of her at least. Just crossed that with the G13 Hazeplant a couple days ago. She's a legit 60 day flower with a stupefying, slightly racy high that will hopefully be made even better by the G13 Hazeplant.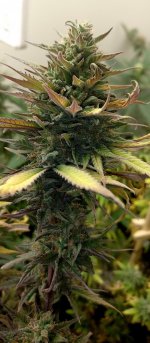 This, astoundingly, is Vision Seeds' Supreme Lemon. Grew out 7 or 8 a while back and most phenos were mediocre, with weaknesses in areas like vigor, trichome coverage, aroma, etc. Not this lady, she was the most vigorous by far of her siblings. She's been crossed with an outstanding (Super Lemon Haze x Moonshine Haze) dude that I've got revegging. I've kinda been doing a lemon project for a while.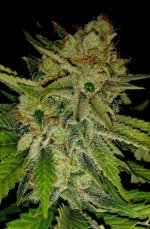 Another of the aforementioned Lemon project. Greenbud's Lemon Pie, which was also crossed with the Super Lemon Moon dude.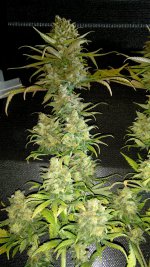 Yeah, so in addition to that I dropped a bunch of Afghan beans from RSC earlier this year- about 15 Afghan Mix and 5 Afgaan 90- along with 5 of USC's Black Afghani- in a quest to understand Afghan genetics more. I've got a couple of the Afgaan 90's in flower now, but don't have great pictures of them at the moment. I'll obviously continue the line pure as well as crossing with the other Ghanis. I'm not gonna outcross these to anything non-Afghan until I feel like I understand their preferences more.
I've also got 5 Original Hazes, one the aforementioned quick-flowering dude, about a couple weeks away from being flipped.
I run an organic soil-less mix (coco, compost, EWC, amendments, lime, perlite), and also cheat by fertigating with Mega Crop at certain points in their growth. I don't use cal-mag or pH pens, just the dolomite lime in the mix.
IPM's are a fermented garlic-chili seed-glycerin-neem foliar, Safer's End-All with 100mL of glycerin per liter added, and PFR-97.
Yeah, so hi! Nice to meet those of you that I haven't yet! I'll be starting a grow thread one of these days...