I would greatly appreciate any info or experience on 1:1 strains, mainly for folks who have not smoked for a long while, and find modern strains way too strong and overpowering, perhaps due to lack of tolerance and experience and/or high proportion of thc and lack of cbd..?
(Or with an analogy, perhaps modern strains are strong as liquour, when some folks would rather enjoy a beer or two..)
I thought 1:1 strains might fit the bill, as cbd balances the thc, so I´ve been told at least.
Perhaps some old school landrace hashplants with cbd would be useful as well, what do you fellow hunters and huntresses think?
Got these the other day, planning to run them as soon as my grow setup is finalized, still missing bits and bobs..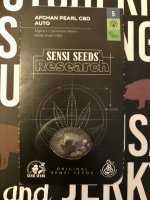 Stay high and safe, ya´ll !!
edit: Sorry for the large format image, can´t just figure out how to edit it..
Last edited: