🌱🌿🌲🔥💨
Staff member
Administrator
Moderator
Astro Black #2 - GK Genetics - @Phylex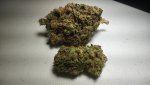 - Appearance –
Nice chunky nugs with just the right amount of "fluffy squish." This type of bud breaks up really nice with just your fingers mushing everything together. It doesn't crumble, it's soft like cotton. It makes for some great material without the need of a grinder (think on the fly), and the joints hit really nice with it.
- Bouquet –
Sweet floral wreath. Very inviting and soothing in a "familiar" sense.
- Dry Hit (Joint) –
Lemon drop and floral with a distinct licorice backend when taking in a good amount of dry hit on the tongue.
- Smoke –
Lemon floral consistently stays throughout the joint. Not overpowering and can be mistaken for oldskool headshop incense.
- Effect –
Clear, and a bit focused. Able to handle regular tasks while being more tolerant of some of the mundane aspects. Good attitude adjusting ability. This would be a great high for running some quick errands that you've been putting off.