I'll start this off with: I turned 30 a little under a month ago and in September of 2020 I finally took the plunge I had waited for since I was 13 and smoked my first J. One of the best feelings that I have ever felt was smoking something I grew myself. I have tried to explain the feeling to those I love around me and they honestly do not quite get it. I understand why, we all follow our own passions and sometimes have a hard time understanding fully what another feels. For that matter I am fairly certain nobody knows anyone's thoughts and reasoning other than their own(and I have some serious doubts about that ability sometimes)...Wow stoned ramble over.
Really all I want to say is I wanted to share the love of that first smoke of your own honest work with those who understand fully what that feels like. Honestly one of the best experiences I have had in my entire life!!
I've never grown anything before and I was losing my mind at my house during lockdown, had some money saved up, and decided I needed to go ahead and try the things that I have always wanted to try...and so I started slowly gathering my notes from the years past and started getting the equipment together. I knew I wanted to run organic soil for my first several runs at least - was immediately interested in no-till methods, but it being my first attempt at any growing I wanted to jump in with something a little easier. I knew I wanted to start from seed and did some research on how to get beans. Once I had all the equipment I needed (Mars Hydro 4x4 tent, Vivosun 6" 440 CFM Inline Duct Fan with ducting and a 6"x18" Carbon Filter, Mars Hydro TS3000 LED, Vivosun seed tray, Vivosun 3gal fabric pots, Aerator with air stones to oxygenate my water while pH up and down, pH up/down from General Hydro, Sonkir Soil pH meter, Oakton pH meter , Dehumidifier, Inkbird temp and rH meter, soil and all the amendments I needed/wanted) I ordered some beans...
I got some beans and popped them into a bowl for each strain with some distilled water. 12 hours later I popped them into a wet paper towel, put each strain in its own sandwich baggie, blew into the bag and sealed them. 16 hours after that they had all 6 germinated and I planted them into Ffof soil in a seedling tray...put the humidity dome on top and spritzed the dome with water to keep it moist.
On the 28th of Sept. I came home from work to all 6 having sprouted. The back left is another Trainwreck, just didn't have another tag.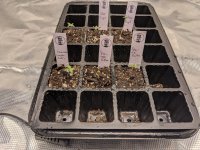 In the next two weeks I had some pH problems, that I fixed with a pH tester, and then had some landlord problems. I had to move the plants on two different occasions out to another friends house. On Oct 10, 2020 I transplanted all 6 into 3gal Fabric pots.
Pre98-Bubba #1 -------------------Pre98-Bubba #2----------------------Star Pupil #1-----------------------Star Pupil #2----------------Trainwreck(Arcata Cut) #1--------Trainwreck(Arcata Cut) #2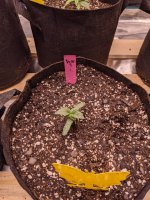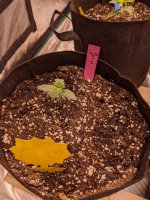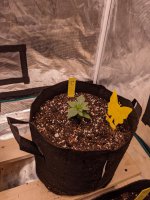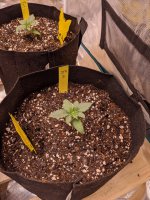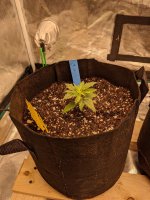 Soil composition:
2.3 Cubic feet of Ffof
.5 Cups of Mykos (mycorrhizae) - just on the roots as I had read that just putting it in the soil was pointless?
7 Cups of Worm Castings
10% Perlite
6 Cups of Bio-Live from (Down to Earth Fertilizer) - 5-4-2 -
Link to Info
3.75 Cups of Kelp Meal (Down to Earth Fertilizer) - 1-0.1-2 -
Link to Info
2 Cups of Granular Humic Acids (Down to Earth Fertilizer) -
Link to Info
On October 17, 2020 I did a top dressing of some dry amendments:
1/8 cup each of Worm Castings
2 teaspoons each of Kelp Meal
1/4 cup each of Azomite Trace Minerals (Down to Earth Fertilizer) - 0-0-0.2 -
Link to Info
I was seeing what I thought might be a Potassium deficiency before that dressing and it seemed to have fixed the problem in the next week.