🌱🌿🌲🔥💨
Staff member
Administrator
Moderator
The rating system used on previous reports may have been too subjective. Ratings will no longer be published on my smoke reports.
Berry Lights OG #4 - Eastys Treats - @Easty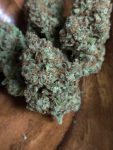 - Appearance –
Dense, hard nugs. No squish. Bright and light colored, almost a silver sheen with some fuzzy trichs.
- Bouquet –
Fresh mountain air and off-the-beaten path berries. Hint of sourness.
- Dry Hit (Joint) –
Light berry with a subtle sour.
- Smoke –
Medium bodied and expansive. The taste is present for the first several hits then dissipates lightly.
- Effect –
Heavy. Both body and mind. Not a morning stone, but great for relaxing at night.