Going to be re doing my lights here soon, any thoughts on my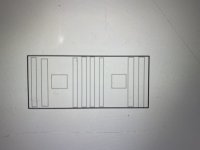 this will cover a 3 x 5 area and can be hung up to 9 ft.
The build uses
2 x XLG 240 H AB
1 x HLG 150H 54A
10 x Samsung B8T521560WW 4000k
2 x HLG QB96
I have the strips mounted inside 2 4ft shelving brackets. With extra material to mount the QBs inside the same bracket by their heat sinks.
i have the drivers mounted outside the grow space to help with heat issues.
Any light gurus available to help me out?
Just trying to get the best out of what I'm working with.