🌱🌿🌲🔥💨
Staff member
Administrator
Moderator
Goji OG - 3Thirteen Seeds - @HydroRed
Sample courtesy of @HydroRed
Please excuse the ceiling fan reflection lol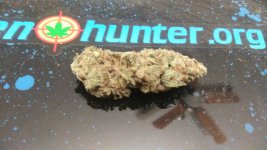 - Appearance –
Rock solid buds. Spear headed, leaning to the sativa side.
- Bouquet -
Very aromatic. A bit citrus, almost like a Lemon Pledge bite with a tiny bit of cherry and "Bounce dryer sheet" (in a good way) back end. Has a good bite to the nose.
- Dry Hit (Joint) –
Light cherry Lemon Pledge with slight Bounce dryer sheet back end. Coats the mouth. Grind your teeth and you'll feel the coating. A sign of good things to come.
- Smoke –
Smooth and very pleasing. Good dragon breath and the breathe out maintains that flavor. Can take huge lunger hits of this and breathe in the goodness without coughing.
- Effect –
Relaxing and slightly cerebral. "Head ringing" is definitely present but melts off quickly to a full body buzz. Appetite inducer, be ready for the munchies, hope you have a bag of chips on hand.