Alright, figure it's time to kick off a journal here. While I work out the app I'm working on for tracking a whole bunch of shit, I need somewhere to log things (historically, forums have served as a good memory keeper), and while I've started one elsewhere, I'm thinking my time is going to be spent here more often. So, without further ado, gonna lay out some specs for what's goin' on and do some show and tell!
The strains I'm working with right now:
- Blackberry Moonshine BX1 from Dragon's Flame Genetics
- Love Stash F1 from Dragon's Flame Genetics
- Personal strain I refer to as "Nothing" - (OG Kush X Trainwreck) X (Mazar I Sharif X White Rhino)
Indoor:
- 4'x4'x76" tent
- 2x Growstar S600 LEDs
- AC Infinity T6 (en route)
- Sunshine mix #4
- Front-Row Ag Part A & Part B
Outdoor is still in development. I'll be running 5 - 7 plants outside, mixed with each strain listed above. A couple will be in a local fully organic soil, but most will be in sunshine mix #4. I'm also setting up a dutch bucket system outside that I'll detail as I get the final pieces together. The gist of it is two buckets filled with hydroton, matched to a 30 gallon res, recirculating. First real hydro run, so it should be fun!
Anyways, here's some pictures from a few days ago
These are nothing. They got a little pissed at me due to the intensity of the LEDs. They've mellowed out a bit since they've been outside, though.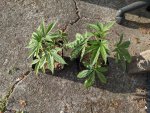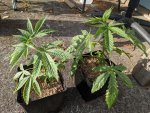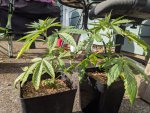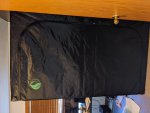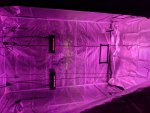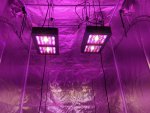 Blackberry Moonshine BX1. Clones will be going outside, once these get big enough to provide.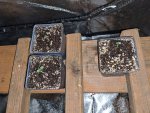 I threw four love stash beans in a shot glass last night and will be putting them in dirt this evening. Should get interesting here in a few weeks, but for now, this is it. Gonna be topping the nothing's this evening and keeping the tops as clones until sex is confirmed.
Really hoping I've got a mating pair here, out of 30 beans, only two sprouted this year, so while the two that are growing aren't the best breeding candidates, I don't want to lose this line entirely; almost seven years of work went into it and would be a shame to lose all that work. We'll see though.
Anyways, pull up a chair! Should get interesting soon -- first grow in over five years with all new equipment, different mediums, and all the fun stumbling blocks that come with trying new shit!