The Sentient Naturewalker
Staff member
Administrator
Moderator
This pack was purchased from therealseedcompany.com

​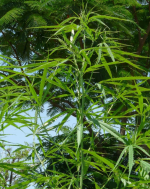 Description​
Genetics:
Lao – Thai Landrace
Sourcing:
The Real Seed Company, Laos, Southeast Asia, Winter 2019
Purpose:
Ganja (seedless or lightly seeded buds)
Latitude:
18° N
Regional Harvest:
December to January
Height:
2 – 4 metres
Characteristics:
Fruity, peppery, and musky aromas; Sativa-type architecture
Classification:
C. sativa
subsp.
indica
var.
indica
Grow Type:
Greenhouse or outdoors
A pure Lao landrace direct from the highlands of Central Laos.
This strain was collected in the mountains of Bolikhamsai Province. Large-scale commercial cultivation has migrated to this region due to crackdowns on cultivation along the Mekong in lowland Laos and neighboring Isan, Northeast Thailand, the historic centres of "Thai" ganja production.
Typical Lao and Thai ganja landraces take six months from seed to harvest. Farmers in mainland Southeast Asia employ two main cycles, namely sowing in June to July and harvesting in Dec to January, or sowing in August to September and harvesting in February to March.
This accession was obtained from Lao farmers in Bolikhamsai who cultivate for the Thai market. The seeds are from this season's earliest harvested plants, which were taken down at the end of October.