I'm back, sluts.
I cannot promise that I can do a lot of spend a lot of time here but I hope that doesn't get me banned.
Today's chores:
Planting 7 Grape Stomper x OG seeds gifted to me by M4K of GGG back in 2013-ish.
Planting 10 Romulan seeds from the British Colombia Growers Association via Brother Mendel.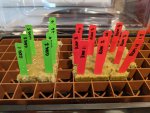 Then, some sterile work. I turned 9 of these tubes: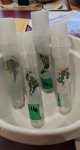 Into 19 of these tubes: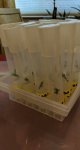 Yes, that is me FINALLY cleaning up the Blackwater!